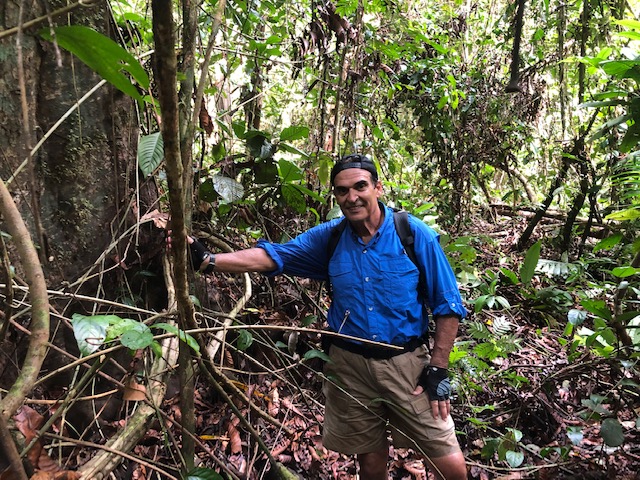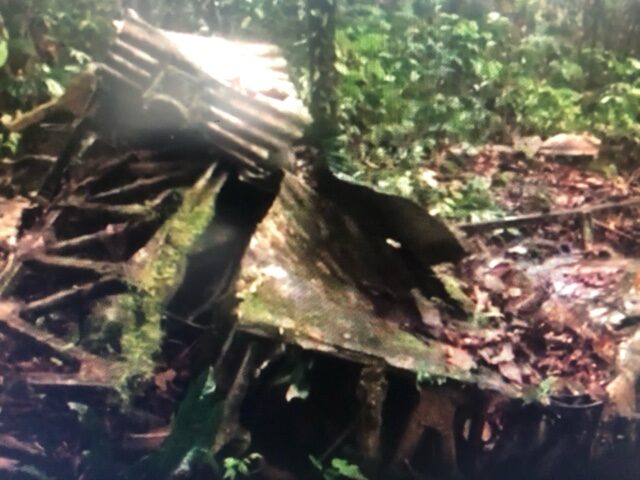 While on our expedition in September 2021, my team and I discovered the partial remains of a Boeing B-17E Bomber, serial number 41-2429. The pilot, Captain Harl Pease, was awarded the Medal of Honor. 
During the early part of WW2, while returning from a bombing mission to Rabaul, New Guinea, the plane was attacked by Japanese fighters and exploded over the jungle. We located the debris field, which included a section of the main fuselage. The bomb bay, main landing gear area of the number 2 and 4 engines were found. It measured approx. 20×40 feet.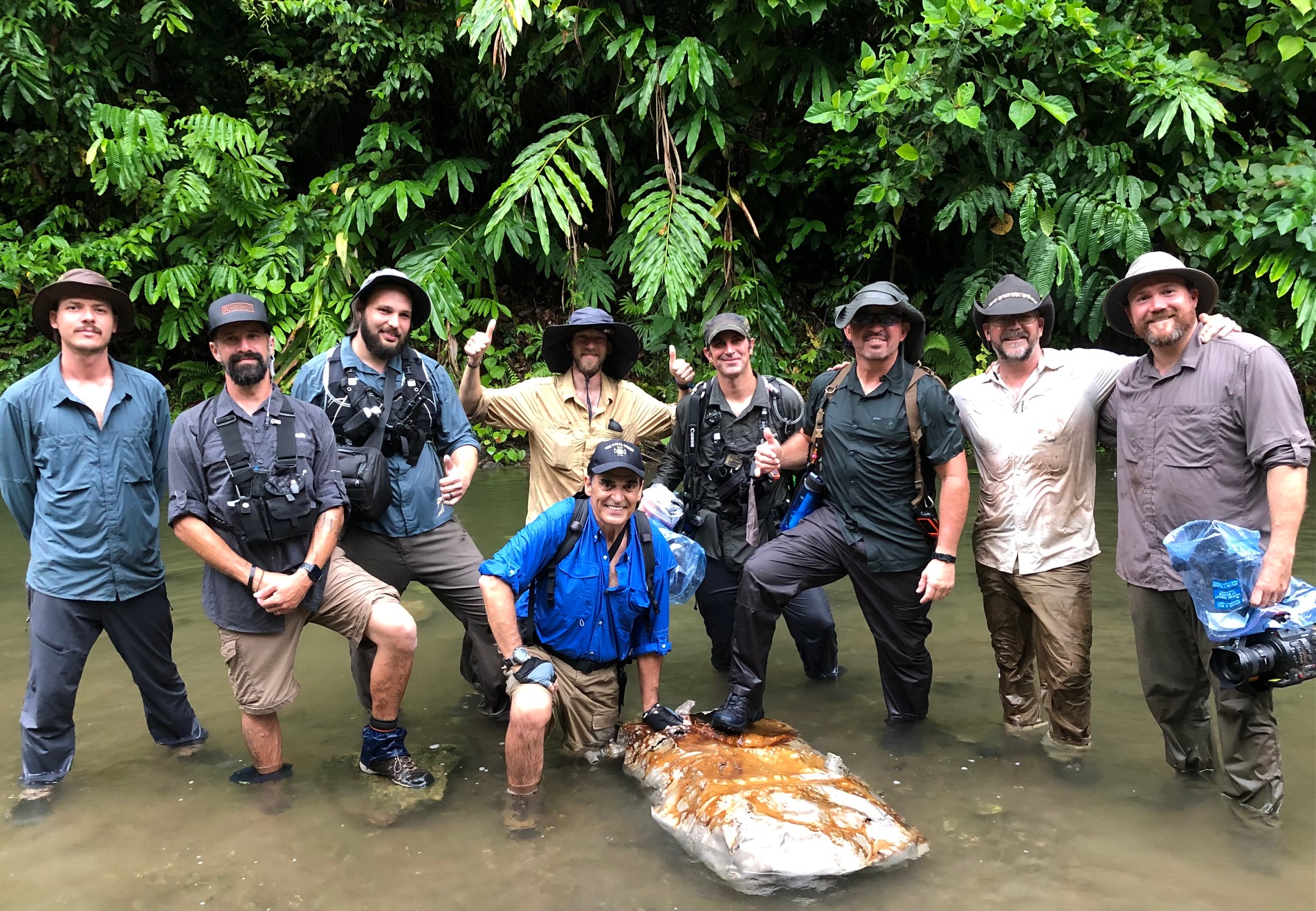 Part of my expedition team and the film crew. I had just found the Hydraulic Reservoir and Accumulator from the crashed B-17 bomber that we had located in the jungle.
UNDISCOVERED: FINDING AMELIA (June 9, 2022)
Director: David Carr
Producers: Mark Kadin, Will Ehbrecht, Greg Spring, Michael Carra, Mary Williams
It is the greatest unsolved mystery in American history. Amelia Earhart disappears while attempting to be the first woman to fly around the world in 1937. Credible theories remain unproven, and decades of searching have turned up nothing. But now, a team has irrefutable evidence they know Amelia's final resting place and are launching an expedition to finally bring her home.
https://press.discoveryplus.com/uncategorized/discovery-announces-expansive-slate-of-documentaries-for-2022/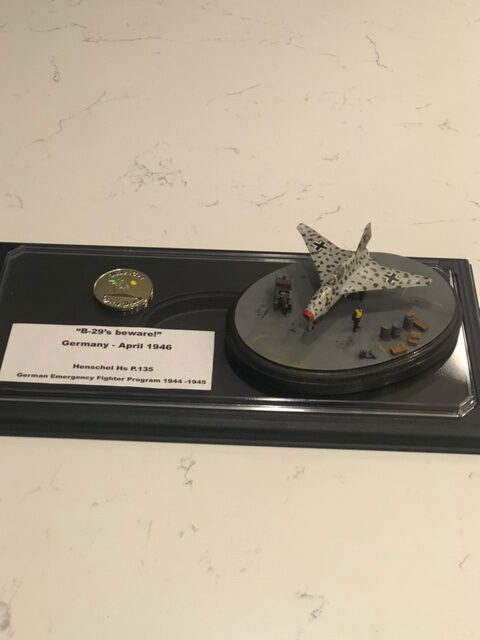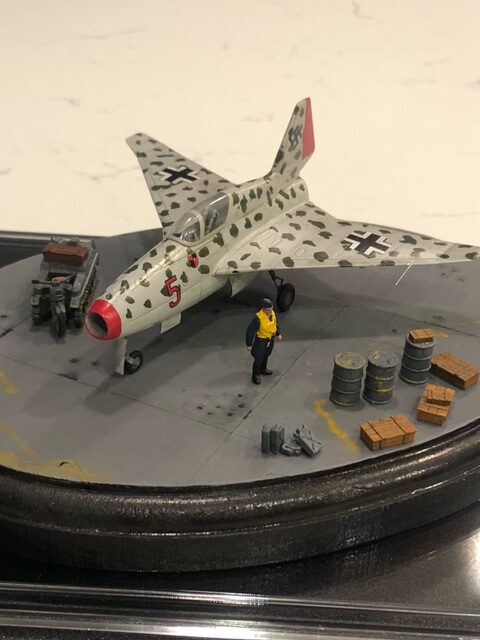 March 2023. Myrtle Beach, South Carolina. Regional IPMS Model Show and Contest. Michael entered several categories and was awarded 1st place in the 1/72 scale aircraft diorama display.
It depicts a "what if" scenario if WW2 had continued into 1946.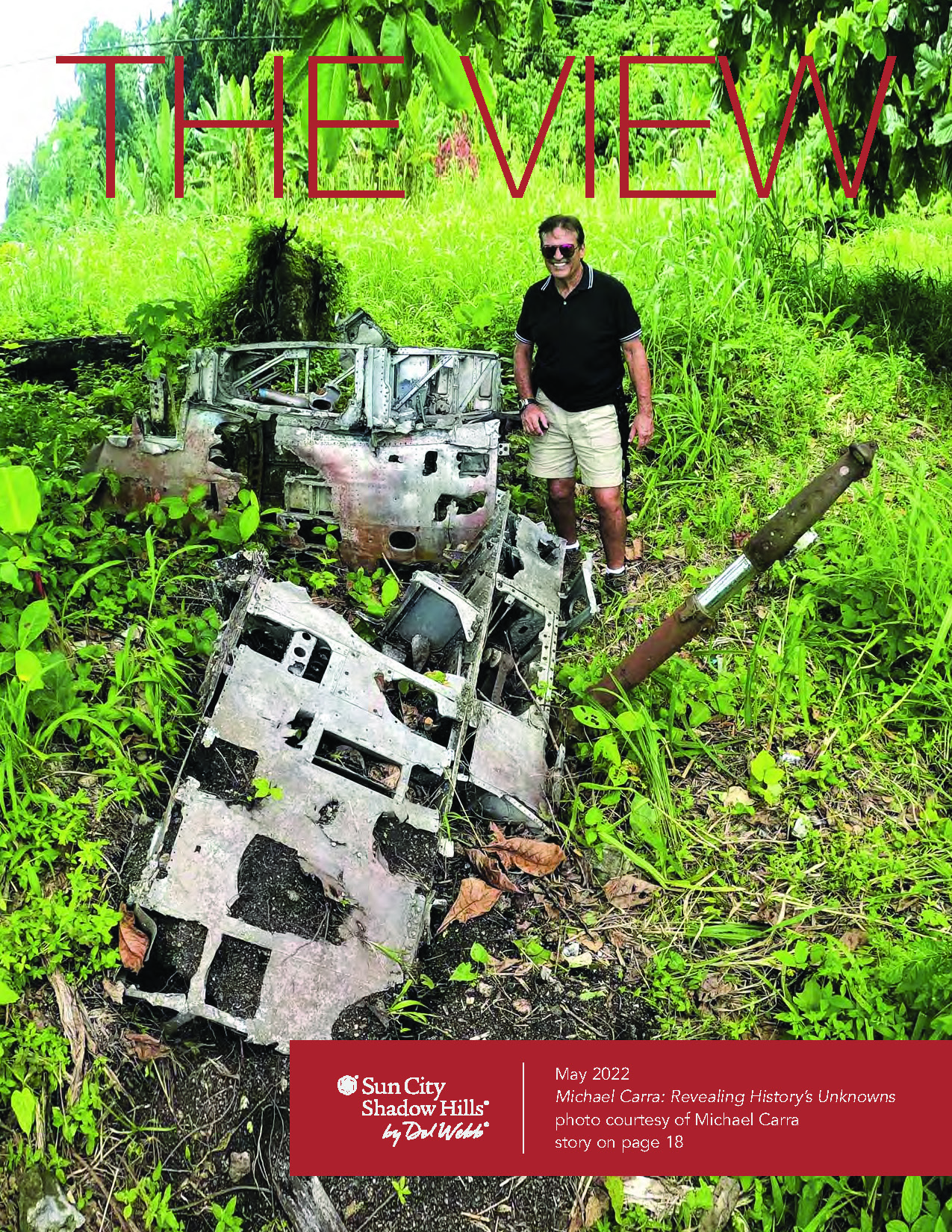 The Aiken Standard Newspaper posted this article on Sunday, February 16, 2020. Many thanks to Richard Marczewski for his submission.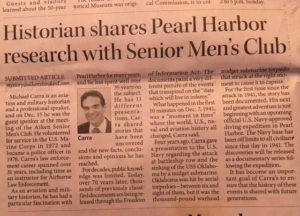 October 22-26 – Naval Order of the United States – 2019 Congress. Michael and his wife, Mary, attended the conference in Boston, Mass.
Michael attended as a voting delegate from the Charleston, SC chapter. Mary is an associate member. The chapter was awarded top honors for 2019 and the closing evening's gala was a special night to remember.
The Naval Order promotes, preserves, and celebrates the history of our nation's maritime services.
On September 14, 2019, Michael attended the International Plastic Modelers Society, Region 12 Convention in Simpsonville, SC.
Michael entered a 1/72 scale model of Louis Bleriot's 1909 Model XI airplane, which was the first airplane to cross the English Channel back in 1909. An additional 100+ scratch made parts were added to super detail the kit of only 23 parts. The kit included a miniature figure of Louis Bleriot. He is only 1 inch tall and Michael painted him right down to his mustache.
The entry was awarded 2nd place.
The SERTOMANS Society recent meeting in Aiken, SC welcomed Historian, Michael Carra as the guest speaker.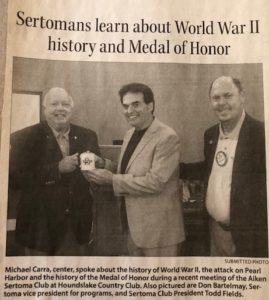 IPMS – International Plastic Modelers Society National/International Conference was held August 7-10, 2019 in Chattanooga, TN.
Encouraged by the Regional Judges from the June Conference, Michael took his Ship Diorama of the U.S.S. ARIZONA and entered it in the contest. Several thousand people with entries from around the world attended.
This was Michael's first time at this event and was awarded 3rd place in the Ship Diorama category.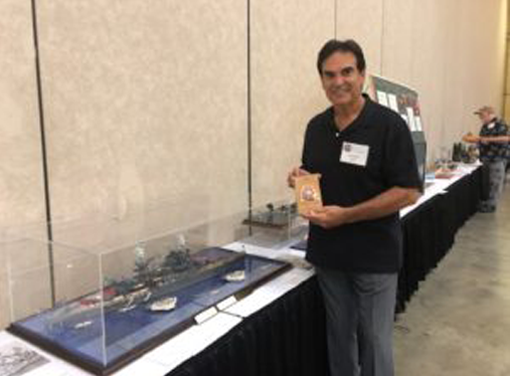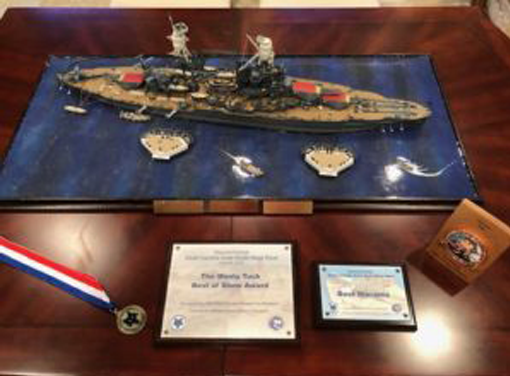 IPMS – International Plastic Modelers Society Mid-Atlantic Conference was held June 22, 2019 in Columbia, SC.
As a new member to IPMS, Michael attended the event. He has been building scale models since he was five years old and for the first time, entered a contest. 
Michael had just completed a 2 1/2 year project building a 1/200 scale diorama scene of the Battleship, U.S.S. ARIZONA berthed in Pearl Harbor the day before the December 7th, 1941 attack.
Michael won 1st place in the SHIP category, the overall award for BEST DIORAMA, and the overall award for BEST of SHOW. A stunning wonderful day not to be forgotten. The National Conference is in August and we will be there!
Smithsonian Channel  –  Seven original non-fiction stories in an all new series to be launched on the network in the coming year.
Premiering in the first quarter of 2019, "America's Hidden Stories" will look to give the cold case treatment to iconic moments in history, going through old records, implementing new technologies and tracking down eye-witness testimony in an effort to resolve age-old mysteries or to alter the way some historic events are perceived. "Pearl Harbor Spies" with Michael Carra premieres March 25 at 8pm. Series is produced by Lone Wolf Media.
MARINE CORPS LEAGUE LUNCHEON – Newsletter – 2018 6 June – Col. Carl Lewke
Marine veteran and local historian Michael Carra will provide a broad overview of U.S. submarine combat during World War II. Michael, who has served as a lecturer at the Palm Springs Air Museum on numerous occasions, also spoke to our cadets at Desert Hot Springs High School about the momentous events on 7 Dec 1941. I was very pleased when he agreed to speak during our June luncheon.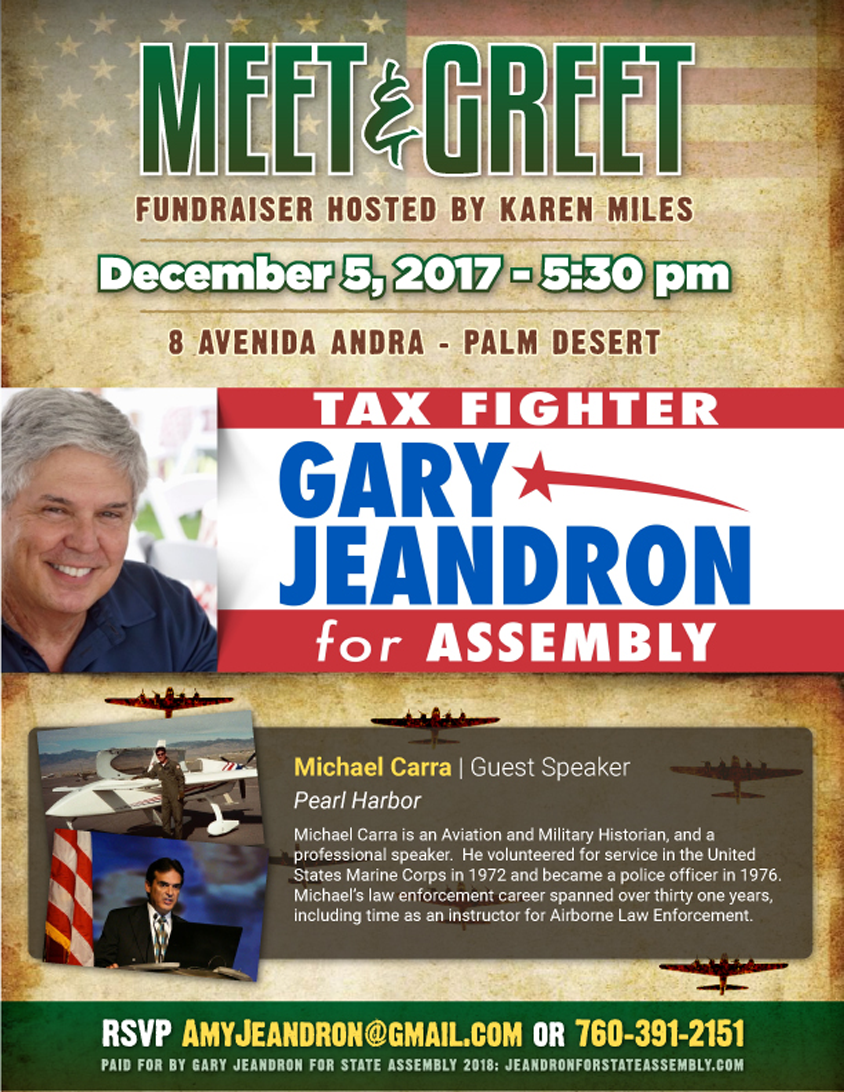 PALM SPRINGS AIR MUSEUM – EVENT PAGE –  2015 6 Dec at 1 PM to 2 PM
Pearl Harbor Program: Attack on Battleship Row Presentation by Michael Carra: 
To All My Friends and Family that made it out to the Palm Springs Air Museum this past Sunday, I want to thank you for your support at my presentation on the Air Attack at Pearl Harbor December 7th, 1941.
Last year, I interviewed 5 surviving veterans from that day for the book I'm writing. Three of them attended and then they invited me to their December 7th luncheon yesterday. At 93, 94, and 96 years old, I really appreciated their effort to attend! And a fourth (97 years old) made it to the luncheon! What an honor…and the 300 attendees enjoyed meeting them.
The museum surrounded the stage with planes like those that were involved that day…
Ed Wise and Jim Donis at the Palm Springs Air Museum.
December 7th luncheon with Ed, Jim, Leo Priest, and Bernie Rubien. 
PALM SPRINGS AIR MUSEUM – EVENT PAGE –  2014 6 Dec at 1 PM to 2 PM
Pearl Harbor Program: Little Known Role of Japanese Mini-Subs Presentation by Michael Carra:  Five mini-subs were to participate in the Pearl Harbor strike. Most never made it to their target, but the fate of one has for many years remained a mystery. Looking at a variety of new evidence, our speaker, Michael Carra suggests that the missing sub played a much larger role than anyone ever imagined.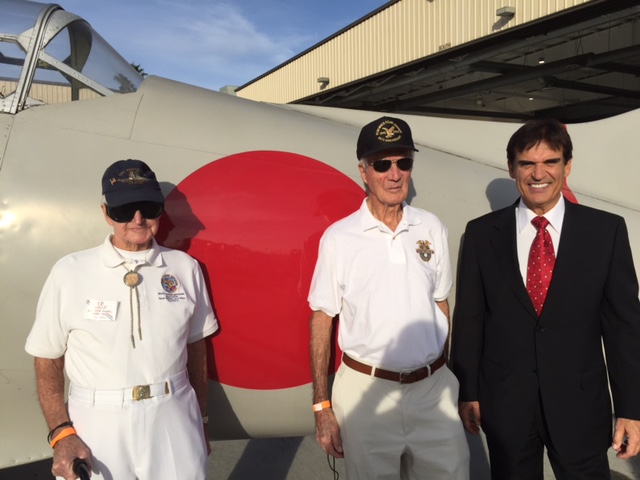 THE DESERT SUN NEWSPAPER – OPINION SECTION – NOVEMBER 30, 2014
Next Sunday, we commemorate National Pearl Harbor Remembrance Day, 73 years after a day that rocked the American soul as much as 9/11 did a generation later. The Palm Springs Air Museum, of course, will host "Pearl Harbor Program: Little Known Role of Japanese Mini-Subs." Michael Carra will discuss how five mini-subs were to participate in the Pearl Harbor strike. Most never made it to their target, but the fate of one has for many years remained a mystery. Carra suggests the missing sub played a much larger role than anyone ever imagined. The program starts at 1 p.m. Saturday at the museum on Gene Autry Trail in Palm Springs.
THE DESERT SUN NEWSPAPER – Denise Goolsby  – December 6, 2014
Remembering Pearl Harbor: Four valley vets reflect (excerpt)
In the early morning hours of Dec. 7, 1941, while most of the nation slept, a faraway naval base in the Hawaiian Islands was being destroyed. Within two hours, after more than 350 Japanese planes bombed and strafed Pearl Harbor — where nearly the entire U.S. Navy's Pacific Fleet was docked — battleship row had been severely battered and thousands had been killed or wounded.
But the ranks of those who bore witness to a turning point in the nation's history is rapidly declining. There are only an estimated 1,100 to 1,200 Pearl Harbor survivors still living, according to Louella Large, National President of Sons and Daughters of Pearl Harbor Survivors.
The U.S. Army was responsible for the defense of the Pacific Fleet while it was in the harbor. Lt. Gen. Walter Short was the commander responsible for the defense of U.S. military installations in Hawaii at the time of the Japanese attack. "Gen. Short was obsessed with sabotage and invasion," said local Pearl Harbor historian Michael Carra. "He has all the anti-aircraft batteries that are supposed to be around the harbor – they're locked up behind fences and all the ammunition is in lockers that are locked up because he was worried about sabotage. Admiral (Husband) Kimmel expected — took it for granted — that his fleet was being protected while it was in the harbor." While security was already lax during the work week, it was even more so on the weekends, which is why the Japanese, according to historical accounts, specifically chose a Sunday morning to launch its attack.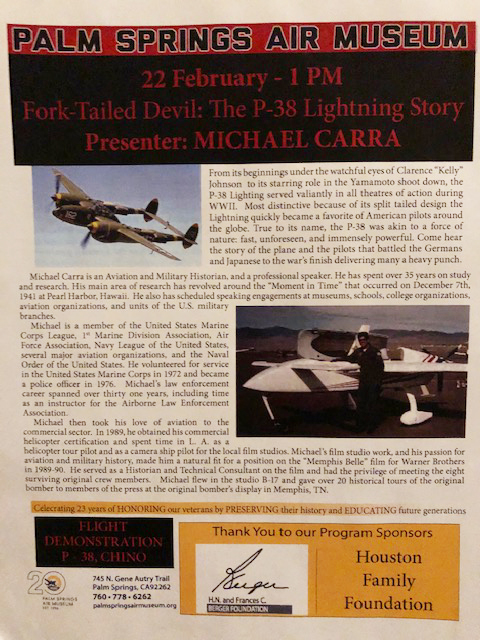 Advance Services Productions
537 Wentworth Circle, Aiken, South Carolina 29803, United States
Phone  (310) 749.7388
Hours
Monday – Friday: 9am – 5pm
Saturday: By appointment
Sunday: Closed